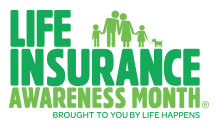 Life Happens coordinates Life Insurance Awareness Month, an industry-wide campaign aimed at educating Americans about the importance of life insurance and helping them get the coverage they need.
Professional race car driver and athlete, Danica Patrick, returns as the 2017 celebrity spokesperson. She is a passionate about staying fit in all aspects of her life, and has a great message for consumers, saying, "As a race car driver and athlete, being fit is important to me. But fitness extends to all parts of your life, including your finances. And when it comes to being financially fit, getting life insurance is key."
Life Happens has created dozens of ways to get this message out, first through a wide range of resources that feature Danica, including videos, flyers, social-media graphics, a Q&A that can even be used as a "news article," and more.
Plus, we have "generic" financial fitness resource, with no mention of a spokesperson, including flyers that are targeted to different demographics, plus social-media stats, graphics, inspirational quotes and more.
Materials
Other Resources